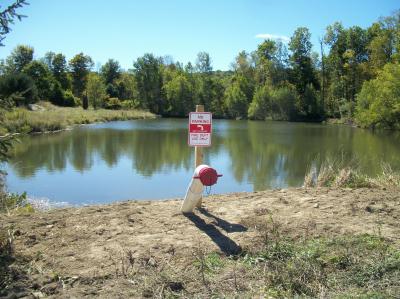 TO REKINDLE interest in its long-time rural fire protection initiative, Claverack has made changes to its dry hydrant program.
The program, administered by Claverack Electric since 1994, provides improved fire protection through the installation of dry hydrants throughout the co-op's service territory. 
A dry hydrant is a non-pressurized pipe system permanently installed in a lake, pond or stream. Rural fire companies can quickly attach a hose to the hydrant head and pump large quantities of water through it to fill tank trucks or to battle a blaze directly. 
Historically, Claverack's dry hydrant program brought together those interested in installing a dry hydrant and provided some of the equipment needed for the installation. Because there are often excavating and other costs associated with the installation of a dry hydrant, Claverack is now offering $1,000 donations to interested fire departments to assist with installation and equipment expenses.
A donation request form is available for pick up at the Claverack office or by mail. The form specifies the requirements of submitting a request to be eligible for the donation. Funds are limited, so we will offer the donations on a first-come, first-served basis and place any additional submissions on a waiting list for the following year.
Municipal Emergency Services, Inc. has agreed to provide discounted pricing to local fire departments working with Claverack Electric for dry hydrant equipment purchases. This change will ensure that the most up-to-date equipment is always available, and needed parts can be shipped directly to fire departments. 
To qualify for the donation, the Natural Resources Conservation Service (NRCS) must facilitate the design and approval of the proposed dry hydrant locations. NRCS representatives will be involved throughout the process and will provide an approval letter to be included with all donation request forms.
With the changes to our program, Claverack anticipates renewed interest by our local fire departments for new dry hydrant sites. Please contact our member services department at 1-800-326-9799 with any questions or to have a form sent to your fire department.
Cooperative members who are interested in having a dry hydrant installed on their properties should contact their local fire company directly to encourage them to apply for funding through Claverack's dry hydrant program.